Dag in de Branding Festival: sensational and trendsetting
Over the last twelve years Festival Dag in de Branding has become one of the leading platforms for new music in the Netherlands. Dag in de Branding organizes four one-day programs a year, during which concerts are staged at locations all across The Hague. The festival showcases the latest developments in classical and improvised music, in music theatre, jazz, pop, as well as in opera and electronic music.
Meriç Artaç is currently artist-in-residence at Festival Dag in de Branding. The Turkish composer presents new musical characters in every edition of the festival. On November 13, 2021, she will say goodbye to the festival with her opera in which all the characters come together. Meriç Artaç (29) was born in Istanbul, where she began her musical education at the Istanbul University State Conservatory at the age of five. She obtained a master's degree in composition with Peter-Jan Wagemans in Rotterdam (Codarts) in 2015. Musical theatre is her passion.
Organisation
Johan Wagenaar Stichting
Festival Dag in de Branding
Postbus 13 671
2501 ER Den Haag
Office: Riviervismarkt 3
2513 AM  Den Haag
+31 (0)6 14950656
info@dagindebranding.nl
IBAN: NL17 INGB 0006 4088 92
Bic: INGBNL2A
Kamer van Koophandel 41156998
BTW | VAT – NL 8057.64.872.B.01
Johan Wagenaar Stichting
The Dag in de Branding Festival is organized by the Johan Wagenaar Stichting, an organization which aims at stimulating the development of new music. The Johan Wagenaar Stichting (JWS) was founded in 1947 and from the outset it had a policy of giving composers pride of place. The organization has commissioned numerous compositions and granted composition awards. The JWS is in charge of music awards in the municipality of The Hague, including the most well known of them all, the Johan Wagenaar Award, which a composer receives for a complete oeuvre. Furthermore, the JWS promotes the realization of performances of contemporary music. The JWS organizes concerts and festivals and initiates and stimulates discussions and collaborations. From the 1980s onwards, the JWS put on a festival called In de Branding, which was held once every three to four years. In 2005 the JWS initiated the Platform for New Music, with financial support from the municipality of The Hague, to increase the festival's frequency and its impact. The programming input of the platform partners is crucial to the Dag in de Branding Festival for new music, and has been since the first edition, which took place at various locations in The Hague on 16 September 2006.
Johan Wagenaar Stichting
Board JWS
Renee Jonker, chairman
Aat Seger, treasurer
Pieter van Loenen
Kiki Raposo de Haas
Reports
2020 | 2019
Beleidsplan 2021-2024 
Caroline Bakker, director
Caroline Bakker was appointed as director of the Dag in de Branding Festival on behalf of the Johan Wagenaar Stichting in 2006. Caroline studied Classical Languages and Literature at the University of Amsterdam. She was head of production for, among others, the Nieuw Ensemble and organized courses and international seminars for DutchCulture, the centre for international cultural activities.
In addition to the work Caroline does for festival Dag in de Branding, she is also (interim) business manager for various artists and ensembles.
Saskia Lankhoorn, curator 2017-2019
From 2017-2019, Saskia Lankhoorn was the curator of Festival Dag in de Branding. The multifaceted and idiosyncratic pianist Saskia Lankhoorn (1979) plays an active role in the contemporary music scene for both solo and chamber music. She has performed with ensembles like Asko|Schönberg, ELECTRA and Slagwerk Den Haag and as a co-founder of Klang is closely affiliated with the ensemble. Saskia also has a piano duo, X88, with the Canadian pianist Vicky Chow, who is known for her association with the Bang on a Can All Stars. Saskia Lankhoorn graduated from the Royal Conservatoire and has strong ties with The Hague. As curator of festival Dag in de Branding, Saskia focused on twenty-first century music.
Christian Karlsen, artistic coördinator 2015-2017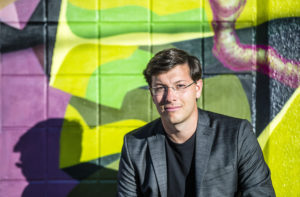 From 2015-2017, conductor Christian Karlsen was artistic coordinator of Festival Dag in de Branding. Christian Karlsen is a maker with a strong personal vision and new ideas for projects. Despite his young age as a conductor, he has already spread his wings internationally. In the Netherlands and Scandinavia, but also in England, Germany and Austria, he is seen as a great talent when it comes to the performance of contemporary music. His two-year appointment was made possible thanks to a generous subsidy from Fonds Podiumkunsten.