The Elandstraatkerk is the perfect venue for the Dutch premiere of Studi per l'intonazione del mare. One singer, one percussionist, one hundred flutes and saxophones will conjure up the mystical expanse of the sea. Artist-in-residence Christian Karlsen will conduct this masterpiece by Salvatore Sciarrino.
The Italian composer has opted for an unusual choice of instruments. Although a large number of instruments are involved, Studi per l'Intonazione del Mare is surprisingly nuanced in character. Sciarrino wants the wind players to play in a microscopically natural way so they "atmospherically blend into an acoustic haze of magical sound."
Studi per l'Intonazione del Mare is a music adventure to remember.
Branding Ensemble:
fluit: Marieke Franssen, Ned McGowan, Ilonka Kolthof, Egbert Jan Louwerse
saxofoon: Hans de Jong, Leo van Oostrom, Femke Steketee, Erik-Jan de With
slagwerk: Nerea Vera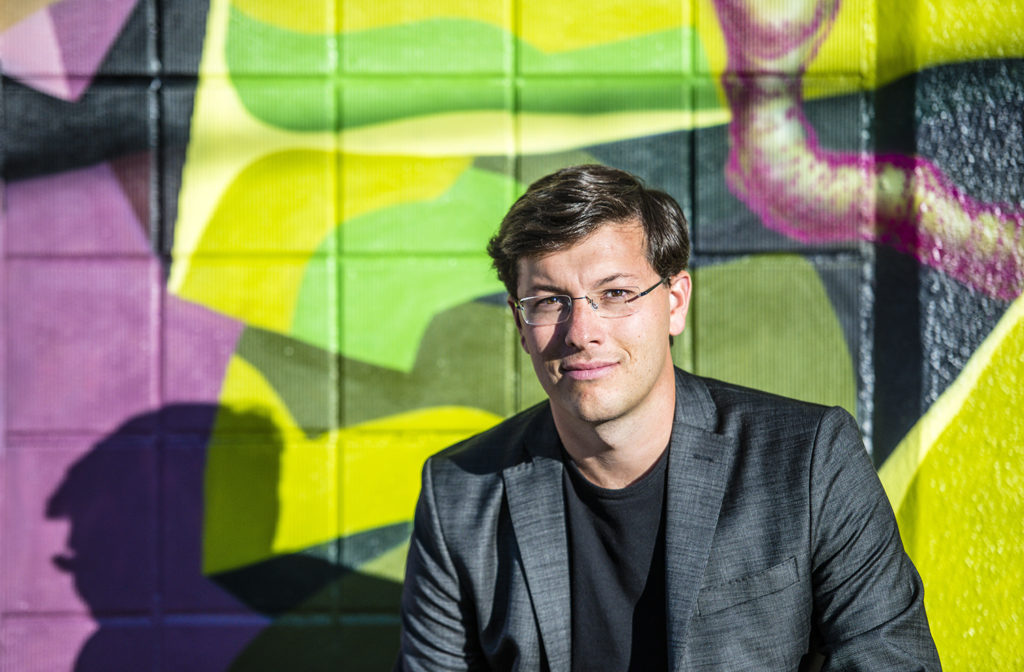 Na zijn carrière te hebben gestart als assistent van Esa-Pekka Salonen is Christian Karlsen (Zweden, 1985) snel naam aan het maken als een van de talentvolste dirigenten van zijn generatie. Met Nederland als thuisbasis is hij nu benoemd tot artist-in-residence en artistiek coördinator van Festival Dag in de Branding. In ons land dirigeerde hij het Residentie Orkest, het Gelders Orkest, Amsterdam Sinfonietta, het Brabants Orkest, NJO Symfonieorkest en het Radio Kamerorkest. Ook is hij een regelmatige gast bij ASKO|Schönberg.
Karlsen is ook veelgevraagd in Engeland, Duitsland, Oostenrijk en Scandinavië. Recente hoogtepunten zijn o.a. concerten met het Frankfurt Radiosymfonieorkest, Göteborgs Symfoniker en een tournee door Mexico met de Birmingham Contemporary Music Group. In het kader van de festiviteiten in Umeå als European Capital of Culture dirigeerde hij in 2014 nieuwe producties van Benjamin Staerns Saiyah en Kaaija Saariaho's Nox Borealis in de Norrland Opera. Zijn veelgeprezen semiscenische uitvoering van Beat Furrer's FAMA met ASKO|Schönberg is door Joep Stapel van de NRC geselecteerd als een van de vijf beste concerten van het jaar.
In 2008 was Karlsen medeoprichter van het New European Ensemble, waarmee hij als artistiek leider en chef-dirigent veelvuldig optrad in Nederland, Scandinavië en Engeland en grote internationale erkenning verwierf voor de innovatieve projecten en programma's. In 2011 was hij artistiek directeur van het omvangrijke Saariaho Festival in Den Haag.
Karlsen dirigeerde vele wereldpremières en werkte samen met zowel vooraanstaande componisten als Salvatore Sciarrino, Sofia Gubaidulina, Magnus Lindberg, Heiner Goebbels, Harrison Birtwistle, Karlheinz Stockhausen en Steve Reich, als opkomende componisten, onder wie Kate Moore, Tansy Davies en Đuro Živković (winnaar van de Grawemeyer Award).
Christian Karlsen studeerde aan het Koninklijk Conservatorium van Den Haag.